YOU DON'T
New recording
co-produced by Tricky
and Mark Saunders
engineered and mixed
by Mark Saunders
for SSO
special thanks to
Ragga, Fruit and
a big shout to
Mark Saunders
TRICKY
Tricky
Martina
plus on this track
Ragga vocals
Feature Jon Wilde
Photos Lili Wilde

TRICKY
IF YOU ask Robert 'Short Cuts' Altman what he is trying to do in his films, he's likely to tell you the following story. A posse of drunken jazz musicians is playing on a riverboat. When they stop playing, one of them looks overboard at the swirling river and explaims, "Look at all that water!" And one of the other guys say, "Yeah, and that's just the top."
The man they call Tricky takes a similar approach to explaining his music: "You listen to it and you get a certain impression. Then you go back to it and you realise that there's all this stuff happenong underneath that you weren't aware of at first. Then you go back again and there's yet more. So much music these days just works on the surface and it works in one particular style and it addresses one particular issue. The stuff I do works on many levels at once and, if you listen to it at the wrong time, it can do strange things to your head."
FROM TIME to time, records announce their arrival with the kind of force that makes you gonads shrivel; the sort of records that make practically everything else sound like Perry Como, spiritually speaking. Massive Attack's sublime 'Unfinished Sympathy' was one suich creature, rolling up at the start of 1991 and knocking what little remained of Madchester firmly and squarely into a cocked trilby.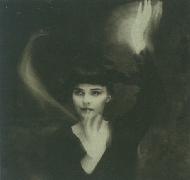 On Tricky's Volume Ten contribution, 'You Don't', vocal duties are handled by mysterious Icelander Ragga (above). Little is known about Ragga, other than that little is known about her. However, following some thorough investigation we can receal that besides her Tricky collaboration, Ragga has made an LP, 'Rombigy' (on the Skifan label) and has developed an unusual concept of voicings and musical dialogue involving the invention of her own language.
The latest record to habe such a dramatic effect on the collective metabolism of the listening public was Tricky's 'Aftermath', a decut of brooding magnificence that managed to negotiate a spcae for itself somewhere between the stones bliss of Cypress Hill and the reactured brilliance of Tom Waits circa 'Swordfish-trombones'. 'Aftermath' has since been superseded by 'Ponderosa', which extends the plot by a few acres, dragging swamp blues kicking and screaming into the otherwise cobwebby '90s where Eric Clapton passes for blues and Seal is mistaken for a poet. Together, Tricky's two releases add up to some of the most esoteric delights to ambush the lugholes in a month of Sundays.
Tricky (the man) is a "reformed hooligan" hailing from Knowle West, otherwise known as the Bristol Bronx where men are men, sheep are nervous and even the cats carry guns at night. Having fallen in with the seminal Funky Bunch on his late teens, he then shuffled sideways to add his vital two penn'orth to Massive Attack's 'Blue Lines' and its attendant hit singles

TRICKY (THE BAND) was born in 1992 when Tricky discovered vocalist Martina sitting on his garden fence in her school unifrom. What Tricky describes as "our illusion of confusion" was subsequently cooked up in the studio with a little hlep from the iconoclastic Mark Stewart, formerly of The Pop Group.
"The dancefloor was never really a consideration," Tricky says. "I simply wanted to amke music that would be listened to. Basically, it's music that you can do whatever you want to. If you want to dance to it, go ahead. I'd like to see you try. If you want to sit in a darkened room and let it fill your head with strange thoughts, that's fine.
"You can even try fucking to it if you want, pardon my French. Actually, a lot of poeple have told me that Tricky make great bedroom music. Personally, I'm more likely to listen to it when I'm stoned out of my tree. But you can make your own choices."
IN AFTERMATH and 'Ponderosa' Tricky create a thick atmosphere that is at once nightmarish, hallucinatory and apocalyptic. Melodies warp and shatter in mid-stride.
Bass lines shudder and splinter before catching their shoelaces in the escalator and tripping over themselves. Perxussion rattles and grates like disesases rats trapped in the wainscoting. Martina's vocals hum with the sensuality of vintage Ann Peebles and murmur with the superb understatement of an Al Green or a Billie Holiday. No kidding. Meanings are carefully smudged from start to finish. The least we can do is wave our bare arses in greatitude and hang on a trail of brightly coloured bunting form the ceiling.
"I don't know about that," Tricky says. "I like to leave it wide open. The songs are about everything. If they're about anything specific, I'd be the last to know because these ideas just pour out of me, straight from my imagination, almost like streams of consciousness. Only after I've lived with these songs for a certain number of months do things occur to me.
"I might suddenly remember that a certain line was written about my mother, or whatever. Then again, I might start hearing things in there that have never previously occured to me. A certain track can take me completely by surprise. The first time I heard 'Aftermath' on the radio, I was driving down a motorway. The experience was so shocking that I had to pull over and catch my breath. Hopefully the song will have a similar impact on the listener."
Much ink has already been spilled on the subject of Tricky but it is seldom pointed out that their music possesses a sense of humour that often verges on the epileptic.
"It's fucking hilarious, isn't it? That's what a lot of people miss. They pick up on the downbeat side of it but can't see any further than that. There's no doubt that Tricky is dark and moody but there's always a wicked laugh in there somewhere. It's not about thigh-slapping belly laughs. But there's musical and lyrical references that are intended to eb funny.
"There's also loads of mistakes, which we keep because they heep the whole thing throbbing with life. That's the problem with a lot of modern music: there's no room for mistakes and so everything comes out sounding lifeless. Fuck that for a game of soldiers."
With a debut Tricky album ready for delivery and another Massive Attack album in the works, the man they call Bristol's musical equivalent of Marco Polo is earning his slice of chicken. Whatever next?
"Expect the unexpected, man. Tangents. More fucking tangents than you know what to do with. Tricky don't move in straight lines. Tricky moves in mysterious ways and he comes bearing gifts. Keep your nose clean and your chimney swept cus Tricky is coming down quicker than a newlywed's thermals."



Click to see bigger photos:


Tricky and Martina, the regular Tricky crew


Sometimes Tricky like to look
on the bright side of life


... but not that often


Later, after a quick call to the rug dealer's